Genç ve dinamik çözümlerimizle her zaman yanınızdayız...
Ceramic Espresso Mug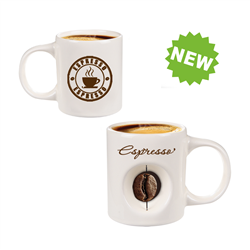 Ceramic Espresso Mug
Dimensions: 5,7x6,5 cm
Capacity:60 ml
Weight: 126 gr.
Properties : Up to 4 colour printed label on the revolving acrylic logo at front side of the glass mug; up to 4 colour printing both in front and back sides on the glass mug; each item is individually packed in a plain corrugated cardboard box for delivery.
-Europe Patent No: 2008/06153 Chinese Patent No: ZL201120485315.1 - ZL201120324468.8 Indian Patent No: 265236
- Trademarks located at the promotional products displayed at our website are used only for products demonstration purposes and serve only as examples, copyrights of the brands presented belong to the trademark owners.